SERVICE
We service roll-off containers Monday through Friday.  Pricing is dependent on size, location and material.  
Rates include delivery, 7 day box rental, and pickup.  Additional charge for disposal.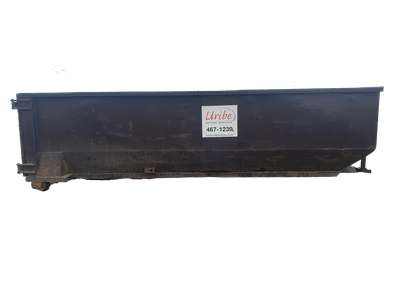 ROLL-OFF CONTAINERS
Our roll-off containers are great for all types of projects including cleanups, remodeling, tree work or any other large project!
Sizes Available (length/ width/ height)
15 cubic yard - 16 x 8 x 4.5
20 cubic yard - 23.5 x 8 x 4.5
30 cubic yard - 23.5 x 8 x 6.5
Placement 
The customer will designate where the roll-off box is placed and the driver will use their discretion when placing.  We cannot place any boxes on the street unless the customer has a permit from the City.
Uribe Refuse will not be held liable for any damage done to the customer's property including sidewalks, curbs, driveways etc. 
Relocation fees may apply
Containers cannot be loaded above the lip.  Due to safety reasons, we will not be able to haul overfilled containers. 
Rental Charge
After seven (7) days a minimal charge may apply unless previous arrangements are made when ordering.
Landfill Fees
The Lincoln/Lancaster County Bluff Road Landfill charges $45.50/ton on all construction waste.  From April 1st through November 30th the landfill operates a yard waste processing operation for yard waste and/or brush at $16.75/ton.  
Landfill receipts can be provided upon request.
Banned Items
Tires, appliances, waste oil, antifreeze, lead-acid batteries, and hazardous waste are among the commonly banned items from the landfill.  Empty paint cans are allowed if lids are removed and residual paint is completely dry. 
Appliances and tires must be picked up separately and are subject to their own disposal fee. 
For more information on how to properly dispose of hazardous materials please contact the Lincoln Health department at 402-411-8040 or visit them at the Lincoln/Lancaster County Health Dept.
NEED A PORTA POTTY?  Click Here