What time does my trash need to be at the curb?
Please put your trash at the curb the night before or no later than 6:00AM the day of your service.
---
When does yard waste season start and stop?
Yard waste season runs from April 1st through November 30th. December 1st through March 31st you are allowed to mix grass clippings and leaves with your trash. Please note, large loads of yard waste may be subject to an additional fee.
---
What is yard waste?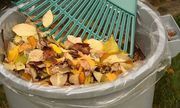 Yard waste is grass clippings and leaves only. All garden waste, branches, bush trimmings, pine needles, flowers, weeds, etc. are included with your trash service. Large loads are subject to an additional fee.
---
Do branches need to be bundled?
YES! Branches must be cut into approximate 3-4 foot lengths and tied into a bundle with rope, wire, twine, duct tape, etc. Please make it a manageable bundle and place it next to the toter at the curb.
---
What is a "toter"?

A toter is a large garbage can that is provided by us for your service. There are many benefits to having a toter issued by Uribe Refuse. They are stronger than what can be purchased in the store and they come with wheels for easy moving, a hinged lid, is large enough for an average weeks' worth of trash, and will not blow away as easy. One 96 gallon toter is the equivalent of 3 standard trash cans. The first toter is included with our service and when you bundle up with RecycleLink you will find it is more than enough room for the average household. An additional toter is available for a minimal fee.
---
What garbage can(s) should I buy at the store?
We strongly recommend obtaining an additional toter from us. Our company issued toters cost a small fraction of buying new cans. If you wish to purchase your own garbage can, we strongly recommend a Rubbermaid 32- gallon standard can with 2 handles, NO WHEELS, and a tight fitting lid.
---
Can I use my toter(s) for yard waste & trash?
Yes, you can use one or more of your toters for either day of service. If you have two toters, you can place two toters out for trash day, as well as place two toters out for yard day. Please make sure there is no yard waste mixed with your trash during the yard season (April 1st through November 30th).
---
Do you take appliances?
Yes! We take all appliances. There will be an extra charge applied because the city landfill does not accept appliances in the fill area. Some appliances that we do not charge for include TV's, microwaves, and water softeners (as long as they are emptied of the salt & water). Some appliances that are assessed a fee include hot water heaters, washers, dryers, stove/oven ranges, refrigerators, or freezers. Please call ahead to schedule an appliance pickup for your service day.
---
Do you haul furniture or carpet?
Yes, we take furniture and carpet! We recommend seeing if items in good condition can be donated. You may also want to try putting it out a couple days early with a "Free" sign. You would be amazed at how fast stuff can disappear and go to someone who might need it rather than the landfill.
Please note, the amount of material may warrant an extra charge. To keep your costs down, please make sure to have all the carpet cut down into a manageable size roll, no longer than 3-4 feet in length and bundled with rope, wire, twine, or duct tape. We recommend cutting it into 3-4 foot widths & bundled before removing it from the house.
---
What holidays do you work on?
We work all holidays except Thanksgiving, Christmas, and New Year's Day.
If your service is to be delayed or changed you will receive notification.
---
What type of payments do you accept?
We accept personal checks, business checks, cashier checks, money orders, and cash. We accept payments with VISA, MasterCard, Amex, and Discover online and we offer a recurring credit card payment plan. We offer AutoPay, and many banks have their own bill pay systems that we receive online from them.
Please note if you elect to use a bill pay service through your bank, there may be anywhere from a day to over a week delay in the payment processing to us. If you are worried about not being serviced, be sure to call the office!
---