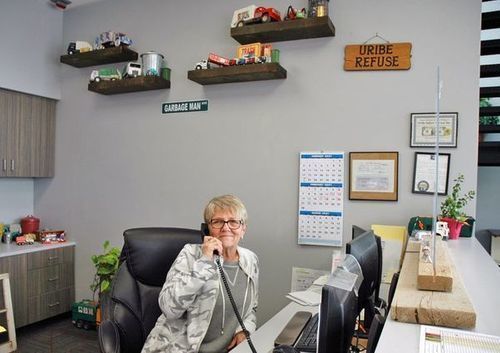 If you've ever stopped by the Uribe Office, you have probably met Renee. She is the welcoming face at our front desk. Renee has been working in the waste hauling industry for 50 years; 20 of those have been at Uribe Refuse Services. When asked what she loves most about the industry, Renee replied, "I love it all.  The customer interaction and working on getting their needs met quickly."
    Originally, Renee's brother-in-law bought into the Six Guys hauling company, and when the company became more than they could handle, Renee stepped in. She recalls the industry as always being family-run and a tight-knit group. There were 42 different haulers at the time, and if you needed to figure out who hauled your waste, Renee was the person you would call.  
    Outside of work, Renee's favorite thing to do is visit her son and granddaughter in California. She looks forward to being able to go again. She also enjoys collecting garbage trucks, which you can find behind her desk.  
    Renee grew up in Ashland but calls Lincoln home. She loves the small-town feel. 
    When I asked what she liked about working at Uribe Refuse Services, Renee said she believes it is the best-run company. Chuck and Brad Uribe are the fairest people she knows, and she says they always strive to do the right thing. She wishes she had been able to start her career here.  
    Next time you stop by don't forget to say hi!