Although we're proud of our products, services, and technology, nothing matches the pride we have in our staff. We learned long ago that we're really in the business of building relationships.
Every person on our staff is committed to providing excellent support and producing high-quality products and services. As you work with us in the future, we're confident that you'll find this to be true.
Dee and Jose showing them how it's done.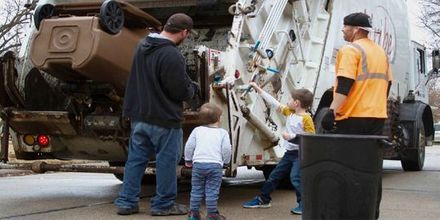 "I just wanted to say thank you to the crew who comes down our street each Monday in Seward. Today was my son's birthday, and he is obsessed with seeing the crew and truck come down, especially watching them "pull the lever" to crush the trash. He watches each week and runs down the sidewalk watching them work.
"Today, I asked if he could take a picture beside the truck, and the two gentlemen not only took time to let me take a picture with him; they helped him pull the level—making his day (probably more like making his month)! They are always prompt, kind, and go the extra mile to bring our trash cans back closer to our house. I don't know their names, but I hope you can identify them and send them our sincere thanks—they are the reason we will continue to choose Uribe. Thank you, gentlemen, for making our birthday boy's day!"